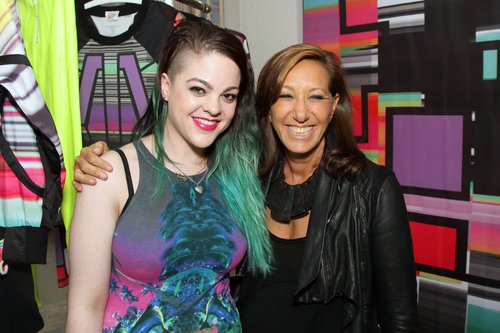 Forward with thanks to E.P. Cutler
British Designer Carly Ellis mashes up impossibly cool subculture with keep-for-twenty-years anti-trend fashion. Ellis mixes street inspired menswear with proportion play for women, optimistic colors, like neon yellow ("the brightest colour a human eye can see") and high quality, pay-for-this instead-of-rent type design.
Why sportswear? "It's never been anything else."
Ellis graduated from the University of Westminster in 2010. Her graduate collection "BOOM!" was featured by Vogue Italia, Super Super Magazine and The Mail on Sunday, and was shot by photographer Rankin of Dazed & Confused. It received critical acclaim:
"Carly Ellis hit a niche with her evening-inspired sportswear which actually glows under UV light."—Hilary Alexander, The Telegraph.
Ellis was invited to join Parsons The New School for Design's MFA in Fashion Design, with Diane von Furstenberg personally sponsoring her education. Her MFA graduate collection was shown during New York Fashion Week, entitled "That Moment Before It All Makes Sense," and was covered by Style.com, Le Monde Paris, WWD, and The New York Times.
At her MFA show, Ellis was approached by Donna Karan. She became the Outerwear and Sportswear designer at DKNY, dressing musicians like Rita Ora and Iggy Azalea, and collaborating with top model Cara Delevingne on Cara D x DKNY.
"When I look at you, it makes me feel like I have done something good with my life." – Donna Karan, Ellis' mentor.
Ellis fulfilled her childhood ambition when she got hired by Nike, designing out of the World Headquarters in Portland, Oregon. She got her start as the Women's Apparel designer at NikeLab, owning the Women's line and working on collaborations such as Ambush, A-Cold-Wall, Skepta, Matthew Williams of Alyx, Pigalle and MiniWiz.
Currently she exhibits her designs on a new kind of runway, the tennis court. She has the honor of working with strong female heroes, designing one-off, made to measure looks for icons such as Serena Williams, Maria Sharapova, and Naomi Osaka. She thrives and revels in the challenge of blending unforgettable fashion with the highest of performance expectations.
She has two cats, actual step brothers named Brennan and Dale, and has a slime green Jeep bigger than her New York apartment. She still loves the Nike Air Max 95s that she got when she was 8, and hopes the tennis dress she designs this year might empower one of her girls to win.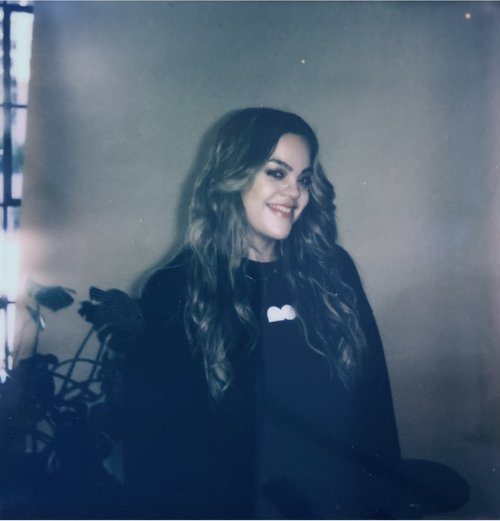 From Carly
I am a relentlessly passionate problem solver and exuberantly creative designer with a diverse range of unique experiences.
Design is the force that fuels my excitement and love for life, as is the equality and empowerment of all women.
My creative journey has taken many unexpected paths, from surprise scholarships from Belgian Royalty, worldwide travels and relocations, to working personally with the three highest paid female athletes of all time.
No matter the chapter in my story, it is underscored by Collaboration. Beginning by working with Super Model Cara Delevigne on her DKNY collection, leading to my role on NikeLab, perfecting collaboration with Artists, Designers and Musicians. All of which seemed to be the perfectly planned, yet totally unplanned prequel to where I find myself now, serving the female icons, disrupters and champions of NikeCourt.
My experiences cover everything from designing One-Off show pieces for Donna Karan to close her show, to Gargantuan Volume programs for the British High Street, to Quick turn, Small Volume, High impact Capsule Collections, through to Made to Measure High performance pieces for the Tennis Court.
The Court is truly one of the World's Biggest Runways, with literally, millions of people tuning in to see our athletes.
I take the responsibility of serving our Women with the utmost seriousness, and I truly believe that good design is a powerful performance tool, if they look good, they will feel good, and in turn, play good.
I hope that in my time on NikeCourt we continue to demand equality for the female tennis player, in a world where what she chooses to wear is still disproportionately policed. In turn, I hope we redefine what a tennis kit looks like for her, and the future of Womens Tennis forever.
I believe being a successful leader, mentor and collaborator, is defined by making and holding space for your team. I revel in the the opportunity to support, inspire and energize whoever I am working with, whilst always remaining honest and practicing radical candor. My High School Design teacher one wrote in my report "Carly's enthusiasm is infectious," and I hope that is still true today.
I don't just like to make space for others, I also just love to make, always preferring to see my idea in 3D form, and most importantly on the body.
Wether thats cutting up samples and re-assembling a quick mock up, a tailoring tape map of the design lines, or draping a silhouette, I will always invest energy into actually making, and actually seeing as proof of concept.
I love to design with multiple points of inspiration, re-mixed, re-curated and re-invented through my own vision.
My MFA work was inspired by the Ndebele in Africa, Sketches of Architecture in NYC, Street Style in Brooklyn and the Colors of American Candy, to give you an example.
Working with collaborators means change is not only expected, but inevitable. My experiences have ingrained an innate ability to be reactive, open minded, receptive, agile, as well as most importantly, how to solve problems in a fast, efficient and responsive manner.
I pride myself in my ability as an editor, always leaving all ego at the door, never loosing site of the goal to make the best product we possibly can.
My professional dream would be working as a Creative Director, devoted to empowering and prioritizing women.