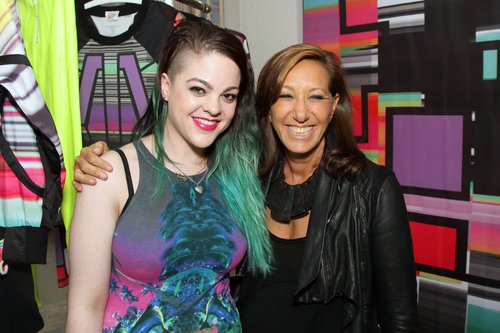 Forward with thanks to E.P. Cutler
British Designer Carly Ellis mashes up impossibly cool subculture with keep-for-twenty-years anti-trend fashion. Ellis mixes street inspired menswear with proportion play for women, optimistic colors, like neon yellow ("the brightest colour a human eye can see") and high quality, pay-for-this instead-of-rent type design.
Why sportswear? "It's never been anything else."
Ellis graduated from the University of Westminster in 2010. Her graduate collection "BOOM!" was featured by Vogue Italia, Super Super Magazine and The Mail on Sunday, and was shot by photographer Rankin of Dazed & Confused. It received critical acclaim:
"Carly Ellis hit a niche with her evening-inspired sportswear which actually glows under UV light."—Hilary Alexander, The Telegraph.
Ellis was invited to join Parsons The New School for Design's MFA in Fashion Design, with Diane von Furstenberg personally sponsoring her education. Her MFA graduate collection was shown during New York Fashion Week, entitled "That Moment Before It All Makes Sense," and was covered by Style.com, Le Monde Paris, WWD, and The New York Times.
At her MFA show, Ellis was approached by Donna Karan. She became the Outerwear and Sportswear designer at DKNY, dressing musicians like Rita Ora and Iggy Azalea, and collaborating with top model Cara Delevingne on Cara D x DKNY.
"When I look at you, it makes me feel like I have done something good with my life." – Donna Karan, Ellis' mentor.
Ellis fulfilled her childhood ambition when she got hired by Nike, designing out of the World Headquarters in Portland, Oregon. She got her start as the Women's Apparel designer at NikeLab, owning the Women's line and working on collaborations such as Ambush, A-Cold-Wall, Skepta, Matthew Williams of Alyx, Pigalle and MiniWiz.
Currently she exhibits her designs on a new kind of runway, the tennis court. She has the honor of working with strong female heroes, designing one-off, made to measure looks for icons such as Serena Williams, Maria Sharapova, and Naomi Osaka. She thrives and revels in the challenge of blending unforgettable fashion with the highest of performance expectations.
She has two cats, actual step brothers named Brennan and Dale, and has a slime green Jeep bigger than her New York apartment. She still loves the Nike Air Max 95s that she got when she was 8, and hopes the tennis dress she designs this year might empower one of her girls to win.